Adventures of a Buinesswoman - Chapter 1
I'm presently in the final stages of getting my business together, but it wasn't all a simple process. When I was starting to look for information on how to get myself together, I found a stunning lack ofhelpfulresources for young'uns and those with zero experience. It was all legal jargon, technical terms. References to bills and documents that made my head hurt. There were also...
Sales!
So, it turns out I'm averagving a sale a month. This is terribly exciting for someone who's just starting off!
Cloak and dagger?
Don't forget to check out our new page on the sidebar. <——- Over there! Want your own cloak? It's only a click away!
Stock update!
Been a busy little bee within the walls of the Tattered Tower. After finally getting my stock into some semblance of organisation and getting a new stock box to take with me to craft fairs and the like, things are taking shape. So far, the majority of my stock falls into two categories; necklaces and earrings. Why? Because I make things that I would personaly wear. I don't think...
Friday Reads →
Looking for a good book this weekend? Why not a bit of Steampunk romance! Enjoy!
Changes
As you might have noticed, the blog here at The Tattered Tower has undergone some pretty awesome changes lately. Besides being wonderfully purple and easier to navigate than the old skin, we now have some new pages on the side bar. Tutorials is an ongoing work-in-progress page with updates and links added to it whenever I find something that tickles my fancy. The Competitions page is one of my...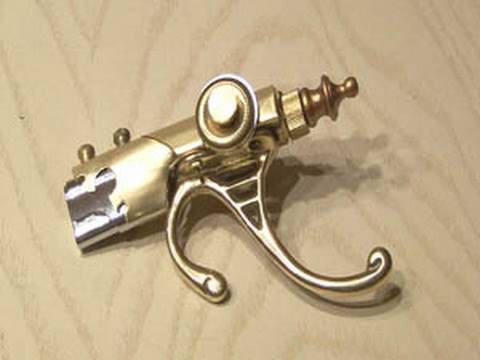 Tattered Tales!
So, it's time we kick this blog off! We've all seen those planking photos, we know how memes go viral in a matter of days and, at some point, we've all stopped and thought "What the holy hell is all this about?" Well, now it's time for you to get in on the action! THE TATTERED TOWER WANTS YOU! For what, you say? Well, listen in. As part of an ongoing...
dark-chocolate-love asked: Your last post was mostly covered by the picture.
The joys of Chloroform.
While I'm sad, but not quite as devistated as some people, about the closing down of a whole stack of Boarders stores here in Aus, I managed to score a FANTASTIC book when I should have been getting art supplies yesterday. CHLOROFORM - The quest for oblivion By Linda Stratmann (Can be found HERE on Amazon) This book is fantastic. I'm not normally one for non-fiction but this book...
Adorable Owl Livestream →
Okay, so this is officially addictive. I'm really enjoying this whole blogging thing. But what I'm enjoying even more is the complete and utter SQUEE of this owl livestream from inside the nestbox. I mean, what the hell? Who gave mother nature permission to be this god damn cute?! LOOK AT THEM AND THEIR FLUFFY HEADS WITH THE BOBBING AND BIG GLASSY EYES AND OH MY GOD YOU'RE SO...
Into The Myst →
Apparently a sneaky traveller snapped this shot while being chased by a mountain panther. Imagine that?
1 tag
tumblrbot asked: WHAT IS YOUR FAVORITE INANIMATE OBJECT?
1 tag
Dear Journal, Today I have found myself in a strange neck of the woods, indeed. There are people expressing opinions and sharing 'insights' everywhere. I'm not entirely sure what drives them to this madness, though I must find a way to resist such a primal urge, should it arise. On the other hand, I am sure that if I were to resist too thoroughly, they will suspect that I am not...